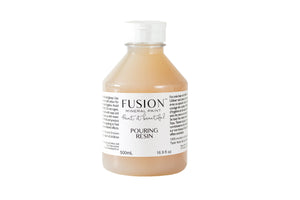 Pouring Resin is an acrylic pouring medium for creating a unique acrylic-pour artwork technique. 
Dries with a durable glossy finish.
No topcoat needed
Nontoxic-No Voc's
Prime all bare wood with before using (so as not to raise the wood grain)
Use on canvas , furniture or any surface that paint adheres to
May be used on its own as a finish or topcoat over Fusion Mineral Paint
Resin may be painted over with a color paint for a multi-dimensional look
Stir before using-(do not shake)
Best applied on a horizontal surface as it is self-levelling.
Put some resin in a cup and tint it with paint by adding a drop or two of paint -no more than a 1:10 ratio
Don't use too much paint -it will not allow the resin to flow
Tap the surface to settle air bubbles
Dry time: 8-12 hours…. Re-coat time: 12-24 hours
Fully Cures - 21 days
May be used with cell enhancer for unique effects.
Tip:
Watch artistic pour technique to learn about experimenting and having fun with this technique.
https://fusionmineralpaint.com/pouring-resin-art-swirl-pour/
If using Cell Enhancer: be sure to wipe those areas with cell enhancer clean with a bit of rubbing alcohol to remove the shiny wet look.