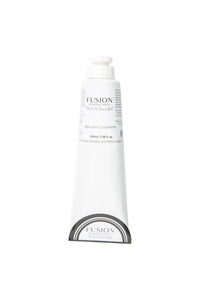 Brush cleaner that conditions and cleans artist brushes. 
Safely cleans & conditions the bristles leaving them soft and malleable.
This soap will bring back to life even the most dried out of brushes.
Made from naturally refined linseed oil- a derivative of flax seed.
100% natural, nontoxic and virtually odorless!
Use on all types of brush hair, from sable to synthetic.
Use for cleaning hands.
Use for cleaning paint off floors, your clothes or work surfaces.
Directions: lather hands or working tools with soap and rinse with water.
Tip: For brushes that have been left a long time and have dried paint lines: coat brush soap over entire bristle surface and seal in a plastic bag overnight.